Atlantic County has weathered hurricanes, derechos and blizzards in the past and, unfortunately, will do so in the future. In times of crisis, the Atlantic County Library System has proven to be a safe haven and support center for our community.  During Superstorm Sandy, residents and visitors used our resources for technological support, such as public computers and Wi-Fi access to contact relatives, start insurance claims, and apply for available help. Our branches also fulfilled the need for emotional and practical support by being a central place to meet, get current information and charge devices.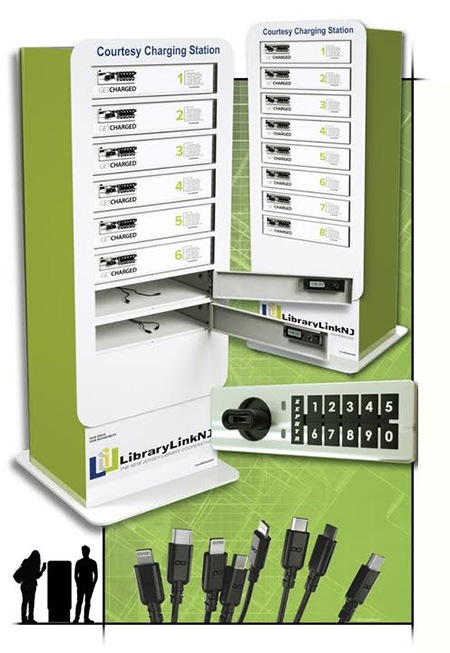 Smartphones, laptops and tablets have become part of the fabric of our everyday lives and having the ability to charge them, not only in emergency situations but every day, is something we have all come to appreciate. Recognizing this, along with an incentive to help local libraries help their communities, LibraryLinkNJ (LLNJ), has awarded contracts for 14 secure public device fast charging stations. The Atlantic County Library System is honored to be a recipient of one of these stations.
A Kwikboost 9300 Charging Locker is now available free to the public at our Mays Landing Branch and will be connected to the emergency generator. It provides 16 charging connectors (including Apple Lightning, Micro USB, USB Type-C) and a single power outlet throughout 8 lockers. Each charging locker is ADA compliant and lock individually to allow users to confidently leave their devices charging while they use library resources.
---

Funding for this Powering Up: Library Charging Stations initiative is provided by LibraryLinkNJ, The New Jersey Library Cooperative whose services are funded by the New Jersey State Library, which is responsible for the coordination, promotion, and funding of the New Jersey Library Network.