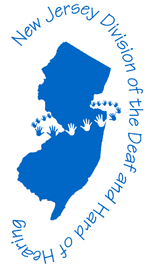 The New Jersey Division of the Deaf and Hard of Hearing has designated the Atlantic County Library System as a Regional Resource Center (RRC) for the Deaf and hard of hearing. This designation makes many resources available to us, such as the Assistive Technology Loan Program and TTYs.
TTY Lending Service
A TTY machine is available for loan to Atlantic County Library cardholders. Borrowers are financially responsible for any damage to the TTY or other assistive devices, and must sign a contract stating such. Signatures are MANDATORY to borrow the TTY or other Assistive Loan Program Devices.
PLEASE NOTE: REPLACEMENT COST OF THE TTY UNIT IS $800.
Download/View the Assistive Devices Loan Agreement
Assistive Listening Technology Loan Program
Assistive Listening Systems bridge the gap between your ears and the sounds you do want to hear, while shutting out the noises you don't. These systems combine a transmitter placed near the desired sounds, which is wireless linked to a small receiver that your wear. This receiver, in turn, delivers those sounds directly into your ears.
More about our Assistive Listening Technology Loan Program
Assistive Listening Devices Loan Program Policy and Procedures
---
CONTACT INFORMATION:
Division of the Deaf and Hard of Hearing
New Jersey Department of Human Services
PO Box 074
Trenton, NJ 08625-0074
800-792-8339 toll free in New Jersey
609-588-2648 
609-588-2528 FAX
E-mail DDHH