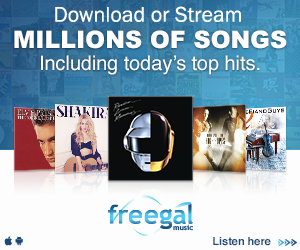 Freegal is a free music service which offers download or streaming access to more than 13 million songs and 30,000 music videos, including Sony Music's catalog of legendary artists.  In total, the collection is comprised of 200 genres of music from over 80 countries.
To access your Freegal benefits, you will need your library card number and PIN to log in. Freegal works with almost all computers, players, tablets, and smartphones. No special software is needed, but apps1 are available for a more mobile friendly use.2
Get the app:
Enjoy Freegal Music two ways:
Downloading: 5 download credits a week (limit resets midnight Sunday). 

Music videos cost 2 credits. If you do not have 2 credits available you will not be able to download a music video.
Song downloads are all in the MP3 format and videos are in the MP4 format with no Digital Rights Management. You have complete control and ownership of what you download.  Songs and videos don't expire, you own them!

Streaming: 3 hours of music every day. Listen to entire albums, premade playlists, or create your own playlists.

Use streaming to preview songs you may wish to download.
Freegal Tips for PC use:
Downloading: To download a song or video, click Download Now

or the + symbol to its right. Click

Save

or

Save as

to select a location and save it on your home computer or a flash drive.

Warning - Even if you cancel the download, you have used up one of your 5 downloads.

Re-downloading: You can get previously downloaded songs or videos again, from this or last week, by going to

Downloads

on the left of the screen. You may do this up to 2 additional times. Once you have re-downloaded a song twice, the song/video titles disappear from this list.
Creating Wishlists:

My Wishlist

is a tool for when you have reached your weekly download limit. Make your selections by clicking the + button on the right side of the song bar and choosing add to wishlist.
Creating Playlists: You can either listen to a whole album or create playlists of your favorite songs using the Create and Store Playlists function under the

Streaming

section of the site.
Printable instructions for Freegal Music and it's app.
---
1 The Freegal app for Kindle tablets requires side-downloading from SlideMe.org.  Make sure you have given permission for your device to download from unknown sources in the settings.
2 Music downloaded on Freegal App will be deleted when app is removed. Music downloaded with Freegal App will not transfer to a new device. To save music permanently, download to a PC.