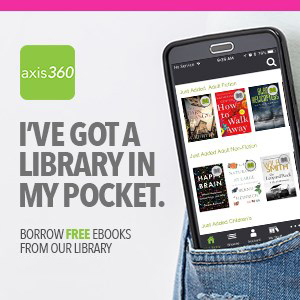 To provide our patrons with reading options, the Atlantic County Library System has 2 eCollections: OverDrive and Axis 360.
As part of the South Jersey Regional Library Cooperation we share OverDrive eBooks & eAudiobooks with libraries throughout the area. Axis 360, however, is available only for ACLS patrons and includes many unique eBook titles and much shorter wait times.
To read Axis 360 titles, download the free app on your mobile device from the appropriate app store. You can search for titles directly from the Axis 360 app or via our online catalog and the ACLS Mobile App.
In both the catalog and ACLS Mobile App, narrow your search to eBooks only by selecting Digital Catalog. Axis 360 titles are identified as Baker & Taylor in the Collection field. From either of these interfaces, you are also able to place holds or check out titles based on availability.  Keep in mind, checking out a title is not the same as downloading it. Go to "My Stuff" on the Axis 360 app to download and read your checkout.
Go to the short tutorials found on the right side of this webpage for instructions on how to use the Axis 360 app or our catalog .
Have you tried Axis 360 today?