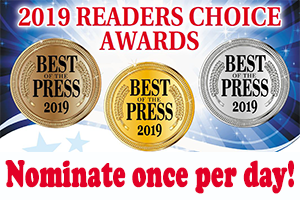 The Best of the Press 2019 Readers Choice Awards nominations have started.
Round One - Nominations: Nominate your favorite South Jersey businesses in Atlantic, Cape May, Cumberland and Ocean counties in eight major categories to be considered in the 2019 Best of The Press, Readers Choice Awards! (Best Library is under Services.)
Nominations are open from Sunday, June 2 to Wednesday, June 19, 2019! Everyone must register before they can nominate. Only one (1) nomination per category, per user, per day is accepted. You can come back each day and vote again for your favorite library.
The five Libraries with the most nominations will be placed up for voting. So show your support and nominate your favorite Atlantic County Library System branch!
Nominations may take up to 24 hours before appearing.
Round Two - Voting: Voting will begin Sunday, June 30 to Sunday July 14, 2019.
Everyone must be registered before they can vote.
We encourage you to come back each day and vote for your favorite library!