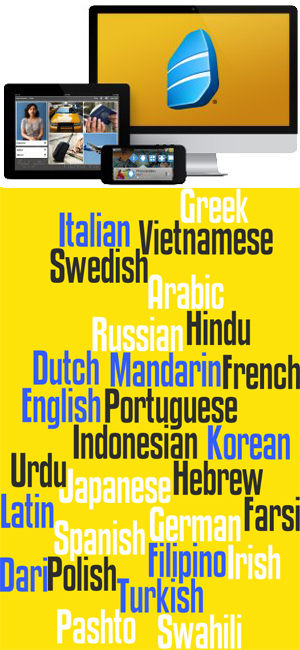 Build your reading, writing, speaking and listening skills in over 30 languages online with Rosetta Stone Library Solutions Plus!
By using the link on our website, Rosetta Stone is available:
to all, from Atlantic County Library System's public computers or our WiFi.
to our patrons, remotely (requires you know your ACLS 14 digit barcode, no spaces).
Once you connect to Rosetta Stone Solutions Plus, enter your email address, create a password and choose the language you want to learn. On the next page, click on "Launch Rosetta Stone Language Lessons" and follow the set-up steps to start learning. When you return to Rosetta Stone, enter your email address and your password. You can choose to continue a lesson (selecting the level from where you left-off) or start a new language.
This version of Rosetta Stone employs speech recognition for some tutorials; having a headset with a microphone or a mike on your device is necessary. Rosetta Stone also requires Adobe Flash Player which can be downloaded for free at adobe.com.
To supplement what you learn with Rosetta, or to learn a language not available,
also try MANGO LANGUAGES.
Read more for instructions on how to use the Rosetta Stone app with ACLS' free subscription.
Steps to using Rosetta Stone on the app:
Have the Rosetta Stone Languages app downloaded. (Available for free from your device's app store)
On your mobile device's browser, link to Rosetta Stone Solutions Plus from our website.
If you are using the service remotely, you will need to enter your 14 digit ACLS barcode here.
Sign in with or create an email/password and choose a language.
Another page will open on the browser - click the "Launch Rosetta Stone Language Lesson Version 3" link.
Choose to open this page in "Langauages."
The app will open.
Start learning.