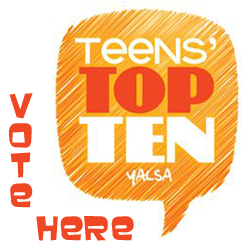 Spearheaded by the Young Adult Library Services Association (YALSA), this year's Teens' Top Ten will be voted on from a list of 25 Young Adult titles. Nominators are members of teen book groups in sixteen school and public libraries around the country who have choosen their favorite books of 2013.
Voting is open August 15 - October 19 and the "Top Ten" will be announced during Teen Read Week, October 12-18, 2014.
Although voting is restricted to readers 18 years old and younger, these smartly written titles on timely topics can also be appreciated and enjoyed by those in their teens and beyond.
Click here for complete list of nominated books and then get your vote on.