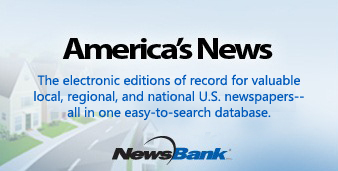 America's News enables our library patrons to read the news in our area or around the country. This comprehensive resource offers current and archived full-text articles from news sources nationwide in a single, fully searchable online database.
Get coverage of local and national topics, along with specific articles, obituaries, statistics, video clips, quotations, facts and analysis all from the complete electronic editions of more than 1,890 U.S. news sources. Found by looking under the subcategory Magazines & Newspapers or Databases & Research in the Resources section, patrons can search and read local newspapers including The Philadelphia Inquirer, The Press of Atlantic City and The Star Ledger.
America's News features an intuitive interface that lets patrons use a U.S. map to quickly select and search one or more local news sources, a group of titles across a state or region, specific papers nationwide or the entire collection. The powerful search engine can retrieve thousands of articles on a particular subject in seconds. With unlimited access to America's News from all our library workstations—and remote access 24/7 for most titles—patrons can freely search, browse, print, save and email full-text articles.