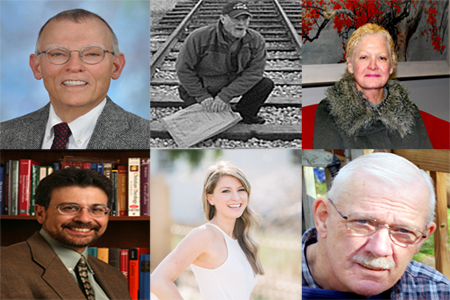 The Egg Harbor Township Branch is excited to kick-off their first ever "Speaker Series" which covers an array of topics for adults and teens. EHT TALKS! is scheduled on Mondays this August and September from 6-8 PM and no registration is required.
Save these dates --
August 11: Atlantic City After Nucky

The Honorable Nelson C. Johnson, author of Boardwalk Empire, discusses Atlantic City after Nucky Johnson.

August 18: Archeology in New Jersey: Why, How, Who?

Archeology is often thought of as something that happens somewhere else – in exotic places like Egypt or Mexico. Ian Burrow, Vice President and Principal Archeologist at Hunter Research explains who New Jersey archeologists are, what they do, and shares artifacts and slides detailing recent projects and discoveries.

August 25: Writing as Witness

This presentation focuses on the "Writing as Witness Project," directed by Dr. Maryann McLoughlin and sponsored by the "Sara and Sam Schoffer Holocaust Resource Center" at The Richard Stockton College of New Jersey. The "Writing as Witness Project," which has published 45 book-length memoirs, encourages Holocaust survivors to write about their experiences. Local Holocaust survivors have been invited to attend to share their life stories.

September 15: The Ark, The Grail and The Quest for Discovery

An illustrated exploration of archeology, history and legend to discover what the Ark of the Covenant and the Holy Grail really were--and what the search for them reveals about us. Presented by Christopher Bellitto, PHD, Professor of History at Kean University.

September 22: Healthy Eating is Easier Than You Think

Megan McGrane, M.S. and a Certified Health Coach breaks down current popular dietary theories and figures out how to find a healthy lifestyle that works best for you. You walk away with her top ten tips for improving your health today.

September 29: America's Pirates and Their Treasures

Learn the real meaning of "Fifteen men on Deadman's Chest," where the likely areas to search for hidden treasure are located, and gain an accurate insight into pirate culture in this informative and entertaining presentation. Presented by Lee Ireland, PhD and author of Place Names of the Jersey Shore: Why Did They Name It That?