Going on vacation? Long car ride ahead? Wondering how to keep everyone entertained?
With Playaway View, your problems are solved! No DVDs, downloads, or additional players are needed. Instead, Playaway Views come pre-loaded with multiple videos; you just have to press play! With content from Sesame Street to storytime classics, it's a great way to provide your child with a literacy tool, fuel the imagination, and foster a love of stories and learning.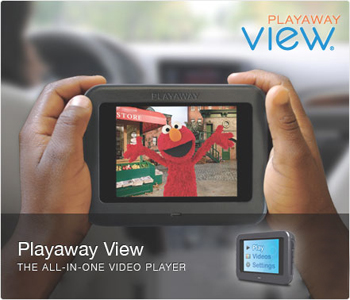 Durable: Unlike DVDS, you don't have to worry about scratches. Playaway View (especially its screen) is designed with kids in mind.
Portable: Goes wherever you do. Equipped with a built-in speaker, and an optional headphone jack, so your kids can watch anywhere.
Convenient: Each Playaway View holds several hours of content and can be charged with a standard AC Adaptor.
Search our catalog using the term "Playaway View," place a hold and check it out at a nearby branch.
Also look for PLAYAWAY "all-in-one audiobooks"
featuring titles for every age!