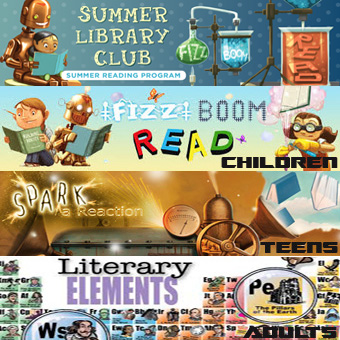 The air around the Atlantic County Library System is electric as our branches get ready for their 2014 Summer Reading Programs: Fizz, Boom, Read!, Spark a Reaction and Literary Elements for children, teens and adults respectively.
Join the buzz by signing into a library club of your choice through our online book log. By recording the books you read this summer, you will be eligible for prizes based on how you meet your club's goals as well as share your reviews.
With this year's "science theme" in mind, our branches have planned a wide variety of educational and fun programs including Grossology, Fizz, Boom to the Moon, Splish Splash Science Camp, Science Adventures, DiscoverOlogy Club and Dinosaurs! with Dr. Bonan. Visit our events calendar frequently to see the many crafts and events scheduled throughout the summer in all our branches. And for the little ones, don't forget Storytimes!
Visit our Pinterest Boards for summer reading ideas!