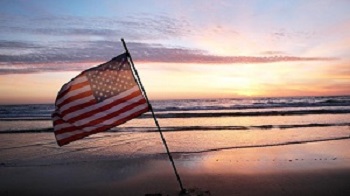 June 6, 2014 marks the 70th Anniversary of D-Day. In Normandy, nearly 10,000 tombstones overlook Omaha Beach and is a stark reminder of the men and women who challenged Hitler's Fortress Europe and fought for the freedom of all.
Local resident, Peter Fantacone, US Navy Veteran of WWII, participated in the Invasion of Normandy and landed on Omaha Beach on June 6, 1944 with Coast Guard Flotilla 10 aboard USS LCI 492.  The Atlantic County Library System is honored to have him share his vivid recollections of that day and help him with his goal to "keep alive the memory of all those who died."
Operation Neptune, as it was code named, coordinated the landing of US, British and Canadian troops on 5 Normandy beaches in 1944: Utah, Omaha, Gold and Juno and Sword.  Met with heavy gunfire, mines, repellent weather and extreme terrain, the Operation did not achieve all of its goals on the first day; however, it gained the important foothold the Allies needed. In the days and months that followed the persistence and valor of our troops, as they worked their way into France and fought back the enemy, resulted in the surrender of Germany.
Adults and teens are invited to join Mr. Fantacone on Monday, June 23, 7 PM, at the Mays Landing Branch. Listen to the heartbreaking yet courageous events of D-Day through Mr. Fantacone's experiences, as he also recounts his trip back to Normandy for the 70th Anniversary Commemorations.