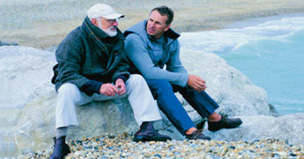 Atlantic County Library System/Brigantine in partnership with BrigStrong hosts Your Calm After the Storm: Hurricane Sandy on Tuesdays through December 17, starting at 6:30 pm. Held at the Brigantine Beach Community Center, the sessions are facilitated by New Jersey Hope and Healing and are free and open to adults.
At 6:30 pm, get updates from BrigStrong, Brigantine's long-term recovery group. Starting at 6:45 pm, share information and get suggestions for managing stress and anxiety. A free mini yoga and relaxation techniques session begins at 7:30 pm.
This project is sponsored by the New Jersey Division of Mental Health and Addiction Services, Disaster and Terrorism Branch, through a Federal Emergency Management Agency grant, in partnership with the Mental Health Association of New Jersey.
The Brigantine Beach Community Center is located at 265 42nd Street. For more information, call Atlantic County Library System/Brigantine at 266-0110.