Atomic Training is a comprehensive online database of how-to training tutorials for all ages. Through the Atlantic County Library System's website, patrons have unlimited access to these instructional videos in the library, at home or on their mobile devices.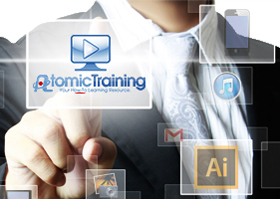 Existing users of Zinio can access Atomic Training with the same login information. New users need their library account number and PIN to create an account which will, in turn, give them access to Zinio eMagazines.
Unlimited access to over 40,000 easy-to-understand online training videos.
Improve Job Skills to fit your needs.
Learn at your own pace.
Access tutorials anytime, anywhere even on mobile devices.
Increase proficiency with easy-to-understand tutorials for all ages.

 
Learn how to use the newest software and cutting edge gadgets such as:
Microsoft Word , PowerPoint, Excel, Adobe Photoshop,
Picasa, Aperture 3, iPhoto, iTunes, iPad, eReaders
HTML5, CSS3, Social Media, WordPress, Google Docs, Garage Band