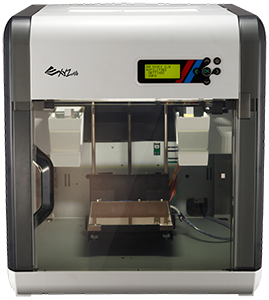 3D Printing is now available at the Hammonton Branch!
What is 3d Printing?
3D printing or additive manufacturing is a process of making three dimensional solid objects from a digital file. The creation of a 3D printed object is achieved using additive processes. In an additive process an object is created by laying down successive layers of material until the entire object is created. Each of these layers can be seen as a thinly sliced horizontal cross-section of the eventual object.
How 3D printing works
It all starts with making a virtual design of the object you want to create. This virtual design is made in a CAD (Computer Aided Design) file using a 3D modeling program (for the creation of a totally new object) ór with the use of a 3D scanner (to copy an existing object). This scanner makes a 3D digital copy of an object and puts it into a 3D modeling program.
To prepare the digital file created in a 3D modeling program for printing, the software slices the final model into hundreds or thousands of horizontal layers. When this prepared file is uploaded in the 3D printer, the printer creates the object layer by layer. The 3D printer reads every slice (or 2D image) and proceeds to create the object blending each layer together with no sign of the layering visible, resulting in one three dimensional object.
Using our 3D Printer
While anyone can use our 3D Printer, there are a few restrictions on 3D Printing. Please read our 3D Printing Procedure.
To get started, you will first need a computer file called an .stl file. This file, often called STereoLithography, can be made with many different CAD programs. You can also download already made .stl files on websites that share them. The most popular website for downloading these files is (at the time of this writing) Thingiverse.com. There is also tinkercad.com, which also has a very easy to use and free online CAD program for making your own things. If you would like to try some of the more intricate and powerful CAD Programs, here are just a few:
Once you have your .stl file and are ready to print, simply fill out our 3D request form.
About our 3D Printer
Our 3D Printer is an XYZ da Vinci 2.0 Duo. It has a maximum build size of 5.9H x 7.8W x 7.8D inch (15x20x20cm). The printer has a resolution as fine as 100 microns. It prints using ABS Plastic. (Learn more about plastics used for 3D printing.) Here is a short video showing our Hammonton printer in action. It is printing a replacement dishwasher wheel.