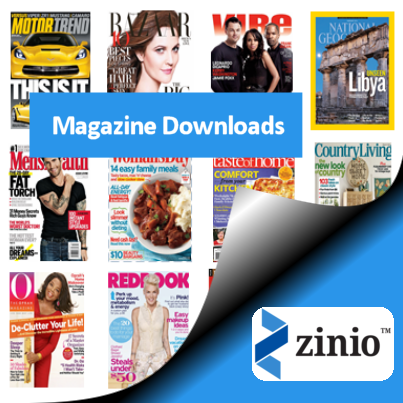 The Atlantic County Library System offers over 90 downloadable magazine titles through the Zinio for Libraries service. These eMagazines can be read on your computer and/or downloaded on a variety of mobile devices with internet capability for on-line and off-line viewing*. There are also special apps for Android, Blackberry Playbook, iPhone, iPod Touch, iPad, Nook HD/HD+1 and Kindle Fire/HD.2
You will need to create two separate accounts to access and read free eMagazines offered by the Atlantic County Library System: 1) an account to access the library's eMagazine collection page, Zinio for Libraries, where you can browse and check out available titles and, 2) a Zinio.com account to read and manage your content online and/or in the Zinio app. You should use the same email and password when creating both accounts.
Download as many FREE eMagazines as you want, read them on as many devices as you want and keep them as long as you want!
Available eMagazines the Atlantic County Library Sysytem subscribes to can not be checked out from the Zinio app directly. For our patrons' purposes, the Zinio app is used to read the eMagazines.
To checkout free eMagazines, return to our Zinio for Libraries collection as often as you like.
1 With the exception of the Nook HD/HD+, Barnes & Noble does not offer a Zinio app for its Nook tablets and eReaders. For now, on these other Nook devices, eMagazines can only be read while online.
2 To get the Zinio app for Kindle Fire/HD, first allow for third party applications in your device's settings then click here to download the app for Kindle Fire and here to download the app for Kindle Fire HD.  Read these FAQs for more detailed information. You should also periodically uninstall your app on your Kindle device and return here to re-download this Zinio App as it will not update automatically.