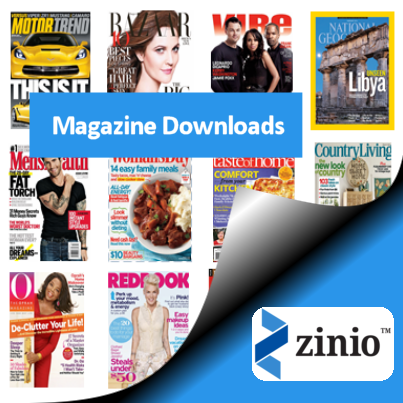 The Atlantic County Library System offers over 80 currrent downloadable magazine titles through the Zinio eMagazine service.
Download as many FREE eMagazines as you want,
read them on as many devices as you want
and keep them as long as you want!
These eMagazines can be read on your computer and/or downloaded on a variety of mobile devices for on-line and off-line viewing. Enhance your reading experience with the Zinio for Libraries app for mobile devices, including those for iPad® and iPhone®, Android™, Kindle Fire™/HD/HDX.
---
Read or print a copy of Zinio User Guides for:
Available eMagazines that the Atlantic County Library System subscribes to can now be directly accessed from the Zinio for Libraries app.
---
1 To get the Zinio for Libraries app for Kindle Fire/HD, first allow for third party applications in your device's settings then click here to download the app for Kindle Fire/HD/HDX.  You should also periodically uninstall your app on your Kindle device and return here to re-download this Zinio App as it will not update automatically.  Read these FAQs for more detailed information.
2Axis 360 cannot be used with designated Kindle eReaders.
3 With the exception of the Nook HD/HD+, Barnes & Noble does not offer a Zinio app for its Nook tablets and eReaders. For now, on these other Nook devices, eMagazines can only be read while online.