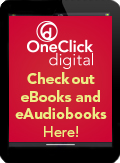 The OneClickdigital eCollection offers 200 eAudiobook and 100 eBook classic titles for download or streaming on PCs, eReaders and mobile devices.
---
For a mobile friendly experience, use the OneClickdigital app1 to checkout eAudio and eBooks, place holds, download, listen to and read titles on your mobile devices and tablets.
Download the OneClickdigital Media Manager to listen to eAudio on your Windows or MAC computer.
Download Adobe Digital Editions Desktop Reader to read eBooks on your Windows or MAC computer.

---
1 Apple devices require iOS 5.0 or later. Android devices require OS 2.3.3 and later.