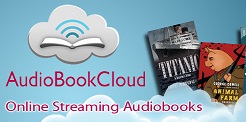 TumbleBooks is pleased to announce that
AudioBookCloud
has now been configured for iPhones and smart phones!
While AudioBookCloud from Tumblebooks has long been compatible with iPads, tablets, and smart phones, it has now been configured to make mobile use even easier. What do you need to do to add this feature? Nothing! Just click on the AudioBookCloud link from the Atlantic County Library System's website or app and you will be automatically redirected to the mobile-friendly site.
AudioBookCloud offers our patrons the ability to stream from over a thousand titles immediately... No holds, no software, 24/7 access.  All you need is a WiFi or data connection (data charges may apply based on your plan).
New titles added all the time.
Click and listen today!