The Meeting Room is currently unavailable due to damage caused by Superstorm Sandy.
Come on in!
After months of reconstruction to stairway, the Brigantine Branch's 15thStreet entrance doors were opened for public use on Thursday, September 24.  Moments later, Henry and Gloria Jacoby were thrilled to be the first patrons through.
Stephen and Sherry Sikora stopped by the Brigantine Branch and recounted how they used to sit on the stairs to watch the fireworks in Atlantic City and how their kids loved to sit here in the summer.  "Thanks!" said Steve, "Now we can watch the fireworks from the stairs again!"
The thanks goes to the City of Brigantine for all their planning and work, to the Brigantine Branch staff for their dedication and to all of our patrons for their patience and understanding.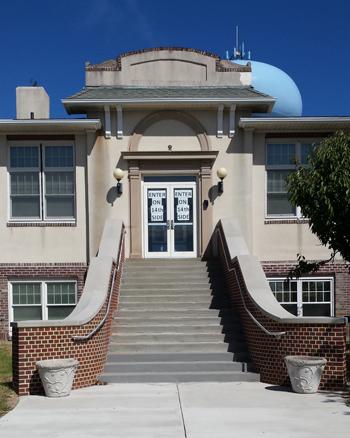 Come on in to join one of our programs and events, use our computers or free WiFi, check out our books, movies and music as well as learn about our digital services.
The Atlantic County Library System has lots to offer visitors and local residents alike. Stop in and keep coming back for more.
---
---